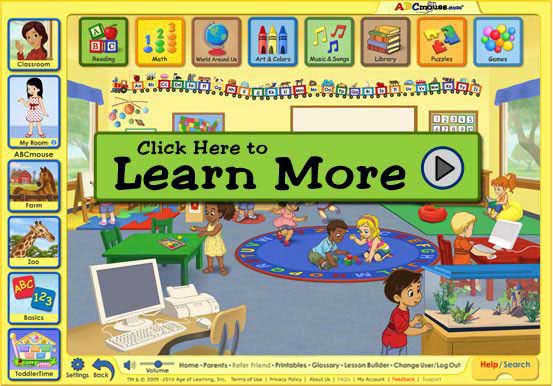 Step-by-Step Learning Path
Six Levels. Over 450 Lessons. More than 5,000 Individual Learning Activities

Six Academic Levels
The Step-by-Step Learning Path presents the full ABCmouse.com curriculum in a carefully designed program of more than 450 lessons in six levels. As your child completes each lesson, he or she is guided to the next one and is motivated to continue learning by ABCmouse.com's Tickets and Rewards System.


"Love the progressive activities! I don't have to take the time to search for activities for my 3-year-old, and my 5-year-old just follows along when she's playing by herself...So I know everyone's doing the right things for their ages!!! :)"
—Crystal, mother of 3- and 5-year-old girls

More Than 450 Lessons
Many Ways to Learn
The lessons of the Step-by-Step Learning Path consist of books, puzzles, games, songs, art activities, and/or printables that relate to a specific topic. Each lesson offers children several different ways to learn, in accordance with the recommendations of early childhood experts.



"My kids can't get enough! As a parent I really like that they are learning and having fun at the same time."
—Sarah, mother of a 5-year-old girl and a 3-year-old boy

Reading
ABCmouse.com's reading curriculum helps children to quickly learn the letters of the alphabet and their sounds, as well as learn to instantly recognize the sight words that are most important for beginning readers. Your child will learn to love to read with our hundreds of fables, fairy tales, nonfiction books, and more.
The Reading Curriculum Includes:
Uppercase and lowercase letter recognition
Recognizing sounds
Rhyming words and word families
ABC Mouse



"My daughter loves this site! She has learned so much more than I thought she could learn at her age. ABC's are her favorite things to do, and since I started her on this website she has learned to read words well above her age level."
—Morgyn, mother of a 2-year-old girl


Art
Learning Through Art
With many different types of art activities—including coloring pages, dot-to-dots, paint-by-numbers, traceables, and printables– ABCmouse.com helps children learn reading, math, and other subjects while they are expressing themselves artistically.



1:01
0:58

Books
Learning Through Books
The hundreds of traditional and original stories and nonfiction books in ABCmouse.com's library will open doors to worlds of knowledge, adventure, and fun for children. Every concept of the ABCmouse.com curriculum—whether it is the sound of a letter, the sequence of counting 1–5, or the seasons of the year—is explained in child-friendly language in one of our library books.


1:21

Songs
Learning Through Songs
ABCmouse.com's music collection features original songs about every letter of the alphabet as well as newly produced and recorded children's classics. The variety of music on the site not only serves to reinforce the other curriculum subjects but also to introduce children to a range of musical styles and themes. Your child will love to sing along!


Click Below to Sample Some
Original ABCmouse.com Songs
The Letter A (Beginner)

The Letter J

The Letter U

Where Do the
Rainbows Go?
Originally Produced
Traditional Children's Songs
1:42

Puzzles
Learning Trough Puzzles
ABCmouse.com's curriculum includes hundreds of jigsaw and cutout puzzles that help children learn and remember important ideas and skills in reading, math, science, art, social studies, and music. There are puzzles for every letter of the alphabet, sight words, stories, the numbers 1 through 20, shapes, zoo and farm animals, and many, many other topics.


1:01

Games
Learning Through Games
ABCmouse.com includes hundreds of games and interactive learning activities, each designed to be fun and educational at the same time. Your child can play games to learn the alphabet, to learn new words, to learn about numbers and shapes, and even to learn about the planets! Since all of the games on the site include voiced instructions, they are easy for young children to learn and play.


1:01

Printables
Learning Through Printables
ABCmouse.com has printables for every subject: reading, writing, math, colors, art, music, beginning science, social studies, and more. Encourage your child to continue their learning offline with printable activities, such as letter and number tracing, coloring, dot-to-dot pictures, paint-by-number drawings, mazes, and pattern recognition activities.


1:04
The Math Curriculum
Includes:
Recognizing and counting numbers 1-100
"More than" and "Less than"
Identifying as well as drawing shapes and simple patterns
The meaning of addition and subtraction



"My kids love learning math on this site. My youngest son
couldn't recognize more than 3 numbers until he started playing
on ABCmouse.com, and now he can easily recognize all the
numbers 1-20! Thank you!"
—Jennifer, mother of a 2-year-old boy and a 6-year-old girl


World Around Us
Beginning Science
ABCmouse.com's World Around Us curriculum helps children understand the things they see and experience every day. This is usually taught as part of social studies, science, and health.
The World Around Us Curriculum Includes:
The body and health
Sports
Plants and animals
Weather and the seasons
The Earth, moon, sun, and stars



"My daughter has learned so much just from the little time she has used this site. I showed her once on the USA map which state we live in. A few days later, she clicked on the map by herself and called me over to show me where she lived! I was amazed!"
—Rosanne, mother of 1 and 3-year-old girls


Art & Colors
ABCmouse.com's unique drawing and painting program gives children of all ages the opportunity to use lines, shapes, and colors to create original works of art. Games, books, paint-by-number activities, and puzzles teach children to name and use a variety of colors.
The Art & Colors Curriculum Includes:
Primary and secondary colors
Shades of colors
Paint-by-number activities
Number and letter dot-to-dots



"My son had the biggest smile on his face this morning while running to Mommy's computer and pointing at it to play. I knew right away what he wanted. When we started coloring and listening to the ABCmouse.com songs, he was the happiest I've seen in a while. Thanks!"
—Yvonne, mother of a 2-year-old boy


Music and Songs
ABCmouse.com's Music and Songs curriculum is designed to teach children to appreciate and enjoy music. The wide variety of songs on the site allows your child to experience the building blocks of music (melody, harmony, rhythm, and lyrics) as well as several different styles of music.
The Music and Songs Curriculum Includes:
Instrument names and sounds
26 original A to Z alphabet songs
Children's classics
Counting and number songs
Song styles: folk, pop, jazz, and more



"My daughter intently watches and boogies along with the music. It's great!!!"
—Amanda, mother of a 3-year-old girl


Some Additional ABCmouse.com Features


Lesson Builder
The Lesson Builder lets you guide your child's educational progress by selecting activities based on your knowledge of your child's needs and interests.


Progress Tracking
It's easy to see how much progress your child is making with the ABCmouse.com Progress Tracker. In addition to the display of total number of learning activities completed in each category (books, songs, puzzles, games, and art), there are easy-to-read graphs that show progress both by academic level and by curriculum subject.


Tickets and Rewards System
ABCmouse.com encourages children to complete learning activities, and try out new ones, by rewarding them with tickets. Tickets can be used to "purchase" virtual items on the site, such as new fish for the classroom fish tank or avatar accessories. The Tickets and Rewards System makes learning a game, and at the same time teaches important math skills as children keep track of tickets earned and spent.



Customizable Avatar
The avatar is a character that your child can choose to represent him or herself while on ABCmouse.com. There's a broad choice of avatar features and clothing, and other avatar-related items that can be purchased with tickets.


Interactive Zoo
The ABCmouse.com zoo allows children to interact with realistic zoo animals, including elephants, lions, monkeys, zebras, penguins, and more! Learn facts about each animal and read books, play games, and do puzzles and art activities for each one!


Interactive Farm
ABCmouse.com's interactive farm features horses, chickens, cows, and more! Watch beautiful animations of our farm animals, learn fun and interesting facts about each one, and do farm-related activities!



Aquarium
Your child can choose exotic tropical fish and other items to put in the Classroom Aquarium and learn lots of interesting fish facts at the same time.


Record a Book
You, or someone else in your family, can record any ABCmouse.com book in your own voice, so that your child can hear you read a favorite bedtime story no matter where you are.


New Content
With frequent updates of new books, games, puzzles, songs, and art activities, your child will have an endless supply of educational activities to keep him or her entertained while learning!

Kimberly Oliver Burnim
Kindergarten and First Grade Teacher
National Teacher of the Year, 2006
"Research has shown that children learn more from birth to age five than at any other time in their lives. Children who complete the curriculum of ABCmouse.com during those all–important formative years will be very well prepared for kindergarten, and that can make a very big difference in the rest of their schooling."
Dr. Rebecca Palacios
Pre-K Teacher for more than 25 years
Founding Director of the National Board for Professional
Teaching Standards
"Parents want to help their young children learn, but may not know where to turn for the right educational resources. If I could recommend only one online resource to parents of young children, it would be ABCmouse.com, without a doubt."